We welcomed our new Canine Companions for Independence (CCI) puppy on September 25, 2015! It is such a tremendous honor to share in her life. Her name is Parasol, but we also call her Pari. Her mother is a golden retriever named Patrice IV and her father, DaVinci II, is a black labrador retriever.
Parasol was born to the "P" litter, and was the 9th of nine puppies, arriving after five yellow and three black siblings. She has 6 sisters and three brothers. Even though the puppy raisers are scattered across the country, we keep in touch with one another to share in the adventures of raising these amazing puppies. You may wonder why Parasol's right ear is tinged with green in the photo. She has a tattoo in her ear which will specifically identify her as a CCI puppy for the rest of her life. The green tinge will wash away easily with her first bath.
In this picture, she is 8 weeks old and newly arrived. She flew, with one of her siblings, from San Francisco to Chicago where we were waiting to greet her.
We already love Pari deeply, care for her thoroughly, teach and practice commands with her daily, and do all we can to help socialize her in positive ways to the world around us. She is scheduled to be with us until she returns to CCI for advanced training in February, 2017. Our hope is that she will complete advanced training and make a match with someone to be their service dog.
We have learned much about how people can be helped by the various roles dogs can play in their lives. There are service dogs, guide dogs, assistance dogs, hearing dogs, therapy dogs, facility dogs, and pet dogs! And, of course, dogs in classrooms like ours helping children practice their reading, sharing happiness, providing comfort, and being a friend to all.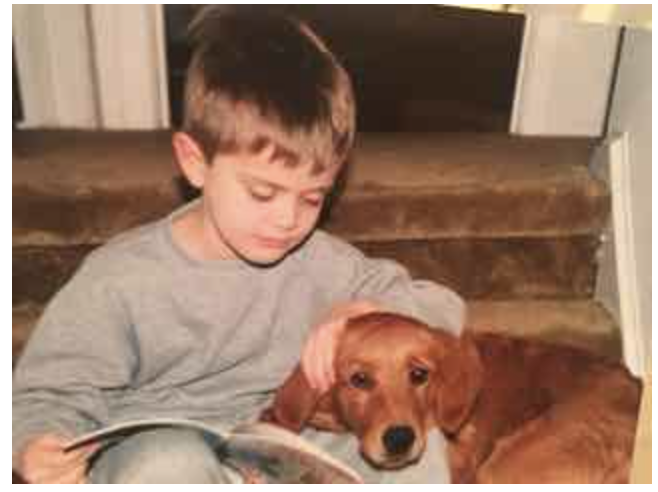 Pari follows in the pawprints of Montessori Habitat's first puppy, a golden retriever named Sunflower (aka Sunny) who joined our school in October of 1997. She spent six years in the classroom on a daily basis. She was a beautiful dog who brought so much joy during the 16 years of her life.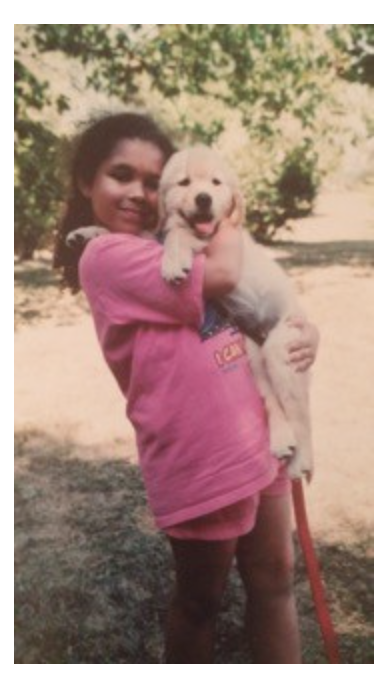 Our next classroom dog was Koufax, aka Koko. Koufax was our first CCI puppy. We picked him up from their facility in Delaware, Ohio in September, 2002.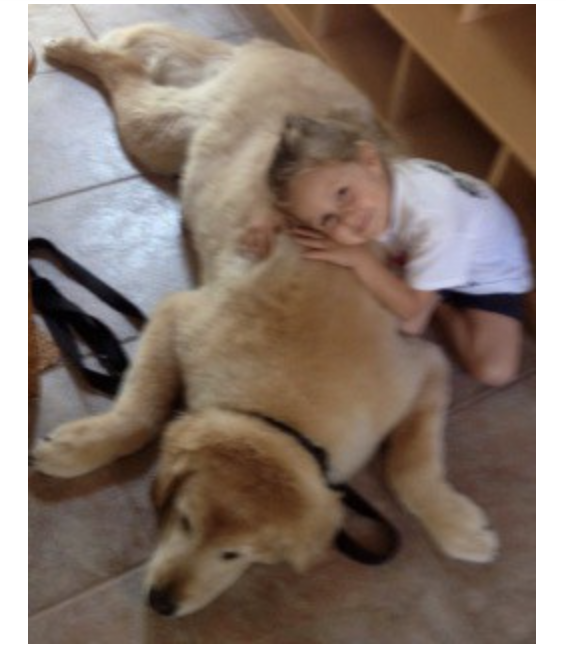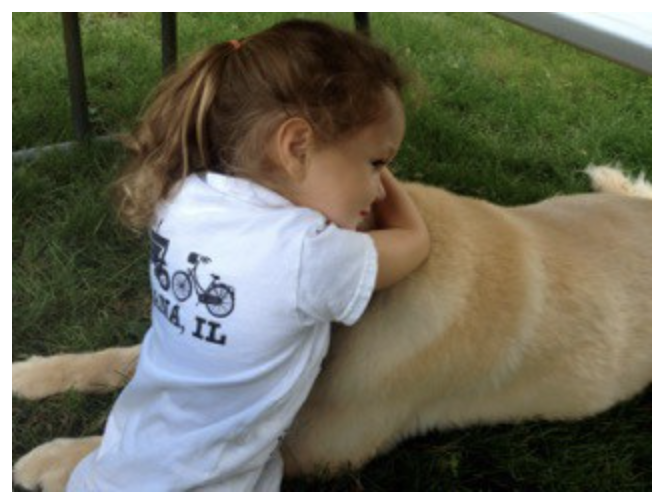 He was a handsome golden retriever with a heart of pure gold. He was in our classroom until November, 2004 when he returned to CCI for advanced training. Near the end of December, he was released from CCI's advanced training due to his desire to retrieve (but not harm) rabbits – his instinctual prey drive was just a bit too strong. As the puppy raiser, we had the first opportunity to adopt him and we did! His unexpected return to the classroom delighted everyone! He served within the classroom for nearly 11 years before his health declined and he needed to retire from the classroom.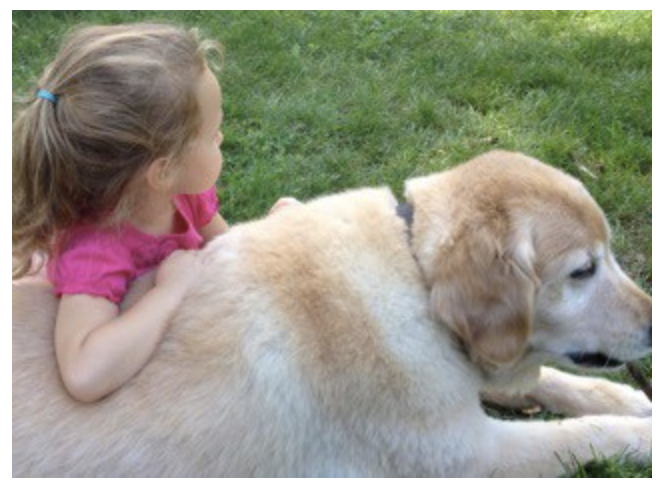 He was definitely a deeply missed class companion.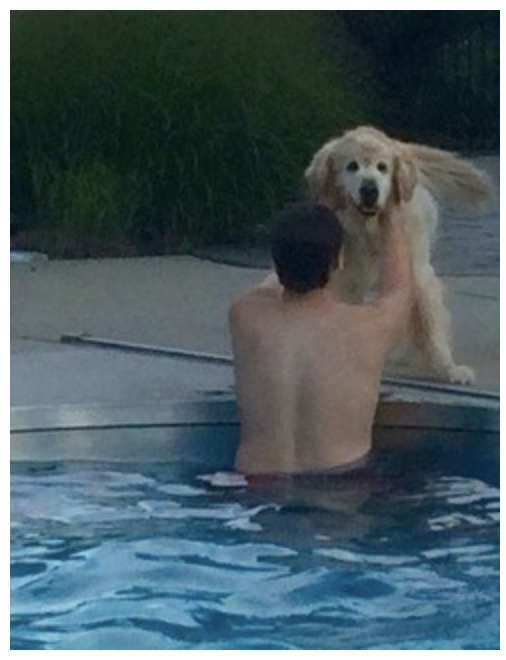 As spring, 2015 turned to summer, it became clear that Koufax was nearing the end of his life. Still, Koufax perked up when "his" children were nearby. The summer get-togethers for returning and new students seemed to be highlights for him. He enjoyed his final summer of get togethers immensely! He received and gave so much love during his life. He was surrounded by broken hearts overflowing with love when he passed on July 25, 2015.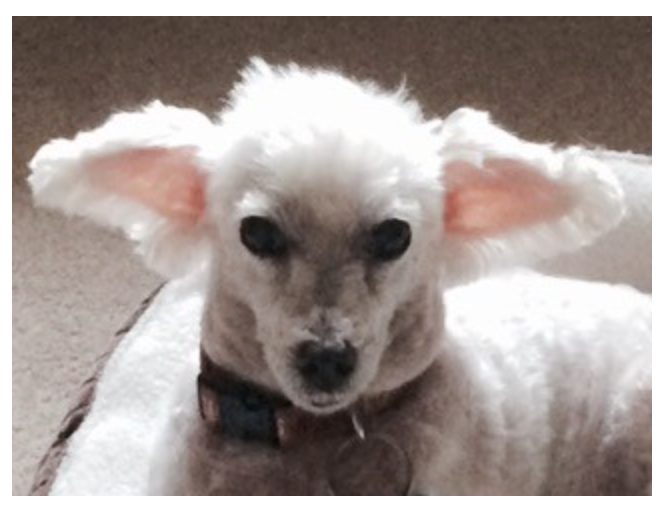 During the spring of 2009, Koufax was joined in the classroom by Wilbur, a miniature poodle. Their antics created many creative writing opportunities and they have starred in many adventure stories, poems, and artwork.
When our middle year classroom began, the students were sad to no longer have a dog in their classroom. With their requests and her family fully onboard, our middle year teacher Rita Smith searched for a small dog with a loving temperament, She found a beautiful miniature poodle/bichon at a shelter to rescue. Max has brought daily joy to the middle years classroom. He shares his joy with everyone at school at various times of the day, and of course, always with his family.
We are excited that this journey of love, devotion, and giving of ourselves to help others has begun yet again. We are grateful to have Pari in our lives!